Learn how to analyze your investment returns at a fund level
In order to access Return Analytics views, you must be a VC admin or a VC member with access to the fund your company is assigned to.
Make sure you're in the APP side of the tool (top bar -> APP)
Navigate to the Investments Overview page in the left side menu
See the tabs Fair Value and Multiple
Return Analytics views gives you access to specific insights on your investment return allocation. You can view the split of Fair Value and Multiple based on different variables: Company, Industry, Stage, Label, Country, Co-investor and Initial vc. Follow On investments return.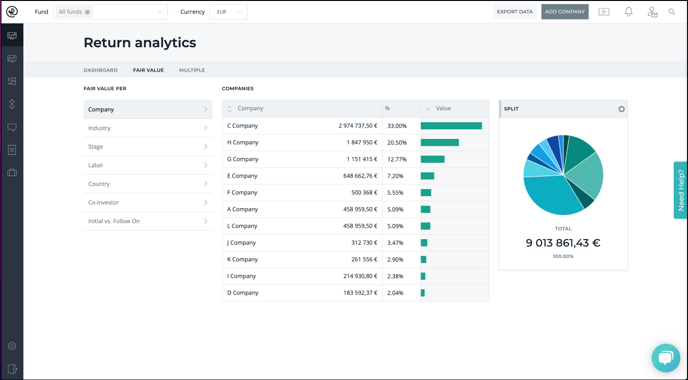 Where is each data point being pulled from and how to update the data?
The data for industries and labels come from the Portfolio Companies page.

Stage refers to funding round types you've aligned when adding funding round details for investment transactions. The data about co-investors is also pulled from the funding round details. Learn How to edit valuation updates and funding round details.

Country tags are pulled from each portfolio company profile (if the company has no users, you can edit the details by navigating to the company profile -> about -> edit). Please note that if the actual portfolio company member has claimed the company profile and is using Rundit, you're not able to edit the company details, only the company members can.

Initial vs. Follow Ons show you the split between initial and follow-on investments. Initial aggregates all first tickets together regardless of a company and Follow on aggregates all other tickets together regardless of a company.