Learn how to edit valuation updates and funding round information
To edit valuation updates and funding round details, you must be a VC admin or a VC member who has access to the fund to which your company is assigned.
Navigate to the top bar and select APP -> then go to the left side menu and click the Investments page.
Whenever adding a new investment, Rundit asks for an Ownership / Valuation Update. To log the funding round details, make sure you tick YES to the question "Is this ownership / valuation update related to company's funding round". At the next step, you're able to insert funding round information.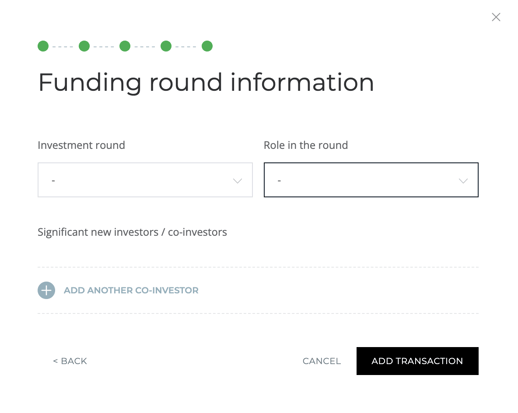 To edit previously added state update (valuation update and funding round details), click the info icon next to a state update > edit
To add a new update, click the button Add Transaction at the top right of the screen or click the plus icon next to a company you want to add an investment to > Update ownership/ Fair Value
edit
button.
Editing state update allows you to adjust:
Total number of shares outstanding
Price per share
Company post money valuation
Number of shares owned per each fund (and ownership)
Valuation method
Funding round details
Fair Value
Transaction notes and comments regarding the update